5358 W 250 N Jasper {Ireland}
SOLD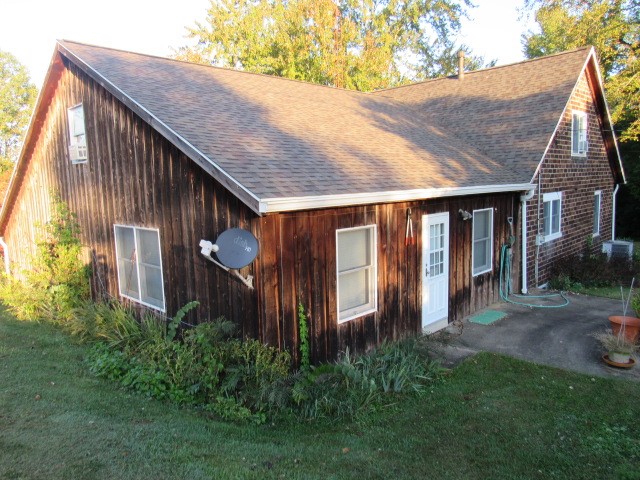 Home & Lot Information
Address: 5358 W 250 N Jasper IN 47546.
Legal Description: Part of the NW Quarter of the SE Quarter of Section 19, Township 1 South, Range 5 West containing .56 acre.
County Parcel #: 19-06-19-402-102.000-016.
Lot Description: Rectangular shape. Well landscaped. Topography is rolling.
Home: One and a half story home with full basement. Glazed block & wood exterior.
Age: Built in 1941.
Total Sq. Ft. Finished Living Area: 2,970 sq. ft.
Bedrooms: Four Total.
9′ 7" x 12′ 9" Main Level. Master Southwest bedroom. Carpet floor. Closet.
9′ 9" x 13′ Main Level. North bedroom. Carpet floor. Closet.
10′ x 13′ 10" Second Level Northwest bedroom. Carpet Floor. Attic storage. Window air conditioner.
10′ 9" x 14′ Second Level Northeast bedroom. Carpet Floor. Closet. Window air conditioner.
Kitchen: 13′ x 14′ 5". Vinyl floor. Many kitchen cabinets. Includes refrigerator and gas kitchen stove, microwave, built-in Bosch dishwasher, Corion counter tops.
Living Room: 14′ 5" x 26′ 8". Carpet floor. Entrance to side patio and carport.
Dining Room: 10′ 6" x 15′ 6" Carpet floor. Large open area to kitchen and livingroom.
Family Room: 13′ x 14′ Carpet floor. Front door to porch.
Master Bathroom: 5′ x 9′ 9". Vinyl floor. Tub & shower unit.
West Main Level Bathroom: 3′ 6" x 9′ 8" Vinyl floor. Cabinets.
Laundry Room: 5′ 3" x 9′ 8" Vinyl floor. Laundry chute to basement.
Second Floor Bonus Room: 13′ x 20′ Carpet floor. Room air conditioner. Large walk-in closet and attic storage.
Second Floor Half Bath: 3′ x 7′ 9" Vinyl floor.
Basement: Three quarter basement with 2 cellar storage rooms. Washer & dryer included.
Front Porch: Covered front porch. Concrete sidewalk.
Ceilings and Walls: Drywall, plaster, paneling.
Heating & Cooling System: High Efficiency gas furnace w/central air conditioning.
Roof Type and Condition: Shingle in good condition.
Interior Features and Remarks: 100 amp electric service. Electric water heater. Modern plastic drains & copper water lines. Very neat & clean.
Exterior Features and Remarks: Concrete drive. Shallow well. 12′ x 18′ side concrete patio.
Attached Carport: 22′ x 28′ with large lawn storage area. Entrance to livingroom.
Unattached Garage: 14′ x 24′ concrete block and wood garage w/overhead garage door, gravel floor, shingle roof.
Taxes: Tax Amount: $1,057 for 2020. Taxes to be prorated to the day of closing.
Possession: Upon Closing.
Schools: Ireland Elementary, Jasper Middle & High School.
List Price: $160,000
For information or showing call Tony @ 812-367-1388.
All information herein is deemed reliable, however is not warranted and
is subject to change without notice. We assume no liability for errors.